Antibody development technologies
Research and development of raw materials for diagnostics
Three strengths
For MBL, the first antibody manufacturer in Japan, its antibody production technologies are the company's core technologies of services as well as the source of product value creation supported by the following three strengths: With the aim of developing and strengthening its core competencies, MBL is continuously and unceasingly working for the advancement of antibody development technologies by taking on the challenge of developing antibodies with desired specifications that call for extremely high technological competence, and by further refining the quality of antibodies already on the market in order to add new value to the company's products.
MBL is now capable of creating and manufacturing every antibody necessary for the company's business under the leadership and guidance of a core team of qualified research personnel by integrating all of the technical know-how and human resources accumulated since its establishment. In addition, MBL has begun manufacture of not only reagent components for basic research and diagnostic kits for clinical laboratory tests but also the antibodies necessary for manufacturing and quality control of commercial products, thereby contributing to the company's diagnostics business in an indirect but multi-faceted manner.
1. Extensive experience and know-how accumulated since establishment
Number of antibody products developed: More than 4,000 product items
Number of contract services orders received: More than 10,000 orders over 18 years
MBL has developed more than 4,000 antibody product items since its establishment in 1969. The broad experience acquired over the years has brought the company to a position where it is equipped with a well-established supply chain from research/development through manufacturing, quality control, distribution, and sales, in addition to extensive know-how regarding a wide variety of antibody functions and properties.
MBL initiated contract antibody production services in 1998. Over the following 18 years up until 2016, the company has successfully responded to more than 10,000 requests from customers. The core team of experts continues to consolidate know-how obtained through the company's long experience and is focusing its efforts on new product development.
2. Broad range of antibody engineering technologies and ability to respond to various needs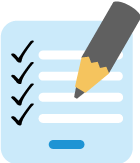 Number of animal species for producing monoclonal antibodies: 8
Number of antibody-related licenses: More than 20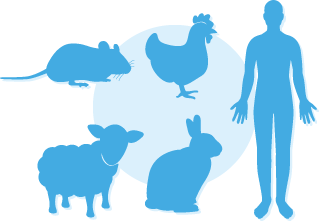 MBL has developed and introduced new antibody engineering technologies such as phage display technology, artificial lymph node technology, a novel human lymphocyte fusion partner SPYMEG cell line, MAGrahd method, an AI-assisted epitope analysis system (MODELAGON™). MBL's three key technology areas are hybridoma method, phage display, and SPYMEG technologies, and it holds more than 20 licenses in relation to antibody engineering technologies (data as at July 1, 2020; including in-licenses from other companies). These technologies are the basis of the company's flexibility and mobility in acquiring not only a wide variety of general antibodies but also antibodies that are difficult to obtain through conventional techniques.
MBL is also capable of producing monoclonal antibodies of eight species of animals (humans, mice, rats, rabbits, guinea pigs, hamsters, sheep, and chickens) (special animal monoclonal antibody production technologies). In particular, MBL was the first company to market a monoclonal antibody product of guinea pigs (anti-NFIL3 (E4BP4) chimeric mAb).
Based on these technological capabilities, MBL is pursuing multi-faceted business interests, including reagents for basic research, diagnostic kits for clinical laboratory tests, and seeds for pharmaceutical products. It has demonstrated a deep and comprehensive understanding of antibody technologies that enable it to flexibly respond to customers' requests, even if they are unique and specific to different areas of medicine.
3. Technological competence to develop seeds for therapeutic antibody drugs


Number of licensed-out patents: 6 patents
Number of molecules developed: More than 200 molecules
In 2003, MBL concluded an alliance agreement with OncoTherapy Science, Inc. Subsequently, the company developed a number of candidate antibodies through contract or joint research activities and provided them to our customers as seeds for therapeutic antibody drugs targeting more than 200 molecules.
Among the antibodies for which MBL holds development rights, the company has licensed-out six patents on seeds for antibody drugs to domestic and overseas pharmaceutical companies (as at July 1, 2020). Those patents cover achievements made using all three of our key technologies. Recently, MBL entered into a licensing agreement with China National Biotec Group Co. Ltd. (CNBG), a subsidiary of SINOPHARM, one of the largest state-owned Chinese pharmaceutical companies, regarding fully human monoclonal antibodies for four infectious diseases, and MBL's antibody technologies in creating seeds for pharmaceutical drugs that are the most difficult to develop are rated.
Medium- to long-term vision:
How MBL can contribute to the health of the general public and to medical progress
There are already many antibodies available on the market that bind to their target antigens, which have been developed, for that reason, the issue is frequently quoted in the field of therapeutic monoclonal antibody development, "depletion of targets." However, because monoclonal antibodies are generated from a single clone of cells and each of them has its own unique and specific properties, there is still great potential for creating highly valuable and unique 'world exclusive' antibodies, such as modification-specific antibodies or structure-specific antibodies characterized by higher analytical sensitivity than any other antibodies and possessing unique properties and functions that have not thus far been reported.
For efficient development of high-value-added antibodies, MBL engages in not only exploration and development of new technologies but also engages in ongoing and persistent efforts to enhance productivity and attain high success rates in antibody creation via mechanization or automation of operations. The introduction of innovative products and technologies is expected to contribute strongly to MBL's business presence in the diagnostic sector. We will further explore business opportunities from multi-faceted perspectives based on innovative technologies and, through new business activities or expanded business in new drug discovery support, contribute to the promotion of public health and medical progress.
Learn more about MBL's antibody development technologies.
Research and development of raw materials for diagnostics