Support of New Drug Discovery
Development of Assay Systems
Since MBL's primary purpose of marketing diagnostic reagents is to support widely the treatment of patients, a successful listing on the National Health Insurance system requires a strategy for insurance listing from the very beginning of reagent development. MBL has an integrated corporate system for performing all operations in-house, from the development of raw materials to formulation development, clinical performance testing, regulatory application, listing in the national health insurance system, and manufacturing and sales of products. In fact, we have a strong track record in the successful listing of numerous in vitro diagnostic reagents in the health insurance system. Thus, we are able to carry out the development of various new reagents with the anticipation of acquiring national health insurance listing.
◆Immunoassay reagents
 Ex. Enzyme-linked immunosorbent assay (ELISA), latex method, and chemiluminescence enzyme immunoassay (CLEIA)
◆Genetic diagnostic reagents
 Ex. PCR-reverse sequence-specific oligonucleotide probes (rSSO), real-time PCR, PCR-sequence-specific primers (SSP), PCR/PCR methods and electrophoresis
Note: Other measurement principles available for business inquiries include Next-Generation Sequencing (NGS), flow cytometry, and immunohistochemistry (IHC).
MBL commences the development of an assay system after clarifying the performance level required for individual diagnostic reagents and designs the system in compliance with ISO 13485. Furthermore, because we are able to comprehensively conduct the course of development from analytical performance tests of designed reagents to programming of clinical performance tests, data acquisition and analysis, and regulatory application, we can deliver reagents to patients with great speed and reliability.
Related content
Development of Diagnostic Reagents for Cancer Diagnosis
Use of "molecular-targeted" drug in cancer therapy has been increasing in recent years to their ability to act on specific molecules and suppress the growth of tumor cells. However, a certain proportion of patients are not responsive to or may suffer from adverse reactions to these drugs. It is possible to examine and identify proteins and genes in a patient's blood and tissues to predict their response to treatment in advance, in order to provide appropriate treatment. The substances that serve as indicators of treatment efficacy are termed biomarkers.
Development of In Vitro Biomarker Detection Reagents
Many colorectal cancer patients are known to have high expression levels of epidermal growth factor receptors (EGFR), and anti-EGFR antibody drugs are used as molecular-target drugs in the treatment of colorectal cancer. In 2013, an overseas study reported that patients with mutant RAS (KRAS/NRAS) exons 2/3/4 were less likely to benefit from anti-EGFR antibody drugs. Concurrently, MBL conducted a comprehensive gene expression analysis in cooperation with public research institutes, including the National Cancer Center, and confirmed that the RAS genes were also predictive biomarkers for the efficacy of anti-EGFR antibody drugs in Japanese colorectal cancer patients. We then have developed and launched the in vitro diagnostic reagent for the detection of colorectal cancer, MEBGEN™ RASKET Kit.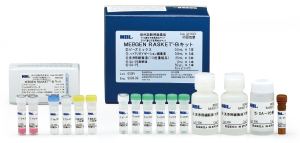 In addition, MBL joined the Nationwide Cancer Genome Screening Project in Japan, SCRUM-Japan - formed for the purpose of research and identification of tumor biomarkers and the development and introduction of new drug formulations and clinical laboratory reagents - and, in collaboration with the team of GI-SCREEN Japan (currently the MONSTAR-SCREEN project) formed for research into gastrointestinal cancers, we have developed the MEBGEN RASKET™-B Kit, which was prepared by adding BRAF exon 15 gene mutation to the detection target substances of MEBGEN™ RASKET Kit and has obtained marketing approval as an in vitro clinical diagnostic reagent.
MBL is the only diagnostic company among the participating companies of SCRUM-Japan. We will continue to create and develop novel diagnostic reagents based on this collaboration.
Human Fusion Partner Cell Line, SPYMEG
SPYMEG is a fusion partner cell line developed to obtain fully human monoclonal antibodies in collaboration with Professor Naomasa Yamamoto of the School of Pharmaceutical Sciences, Ohu University. The fusion of SPYMEG cells with antibody-producing cells collected from human blood facilitates extremely efficient and convenient acquisition of fully human antibody-producing hybridomas. The efficiency of obtaining hybridomas of fully human monoclonal antibodies using SPYMEG cells is far superior to the use of other fusion partner cells reported to date. In addition, it is relatively easy to obtain fully human monoclonal antibodies even in research environments where highly-tech research equipment is not available in laboratories, as compared to other methods for obtaining fully human monoclonal antibodies, since the collection of hybridomas with SPYMEG does not require much in the way of instruments and equipment and the technology is quite easy to implement. To date, we have succeeded in the development of candidate therapeutic antibody drugs for influenza virus, dengue virus, and botulinum toxin through joint research. Three antibodies isolated by our own technologies have been licensed out to China National Biotec Group Company Limited (CNBG) (state-owned enterprise). MBL is running a business of licensing out SPYMEG for use as a tool to assist many researchers in easily obtaining desired human monoclonal antibodies. Especially in the field of infectious disease research, SPYMEG cells can be used to establish virus neutralizing antibody from patients' antibody-producing cells for therapeutic use.
Immune Cell Monitoring Tools (MHC Tetramer Reagents)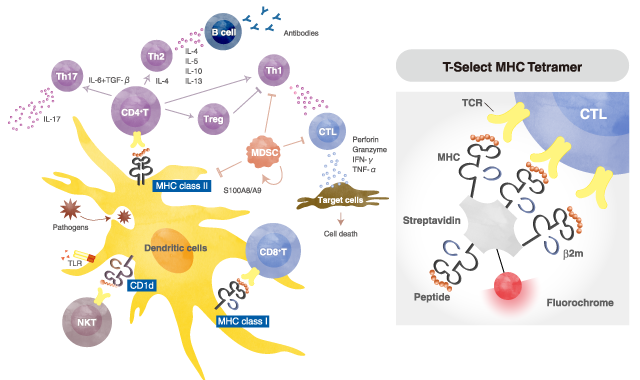 T cells as Key players for Cancer Immunotherapy and Autoimmune Disease therapy
Our bodies contain a great many cells that have various immune functions. Among them, T cells are responsible for the elimination of tumor and virus-infected cells and are also involved in the maturation of antibody-producing B cells. Cancer immunotherapies, which are now attracting much attention since the launch of immune checkpoint inhibitors, also utilize the ability of T cells to kill tumor cells. Certain types of autoimmune diseases, such as pemphigus, occur when regulatory T cells do not function normally. Therefore, technologies and reagents for investigating T cells collected from patients are extremely important for developing effective treatments and diagnostic methods.
MBL's Tetramer Business
MHC tetramer reagents are indicated for the specific detection of immune cells that eliminate tumor cells and virus-infected cells.
MBL has been engaged in the development, manufacturing, and global marketing of MHC tetramer reagents for over 15 years. We are also undertaking the contract manufacturing of custom tetramer reagents at the request of researchers.
MBL will continue to focus on this important research area and contribute to the further development of personalized medicine especially through the development of products for cancer immunotherapy, such as immune monitoring reagents and companion diagnostics.
See the web page introducing MHC Tetramer Reagents for details.
Development and commercialization service for the products compliance with the standards for Biological ingredients
The Japanese Standards for Biological Ingredients are the standards established based on the Pharmaceutical and Medical Device Act*. The standards specify measures to ensure the quality, efficacy, and safety of drugs, etc., when raw materials** derived from biological sources other than humans and plants are contained in products such as pharmaceuticals, quasi-drugs, cosmetics, medical devices, and regenerative medicines.
* formerly, the Pharmaceutical Affairs Law
** "Raw materials" include those used as additives, culture media, etc. in the manufacturing process.
In recent years, there has been an increasing need for reagents that are compliant with the Standards for Biological Ingredients for use in the development of pharmaceutical products such as regenerative medicines. We have experience in the successful delivery of customized-service products with a certificate of compliance with the Standards for Biological Ingredients through the establishment of a production system in accordance with the ISO 13485 standard: Quality Management for Medical Devices. Utilizing this experience, we are promoting product development to expand our lineup of Research products that meet the Standards for Biological Ingredients with the focus on niche cells or factors for use in the culture of organoids, which is seeing rapid growth.