In vitro Diagnostics
Immunology/Serology diagnostic: autoimmune disease
MBL has an extensive lineup of high-quality in vitro diagnostics for orphan and intractable diseases, helping patients to obtain early diagnosis.
Autoimmune disease, such as rheumatoid arthritis (RA) and systemic lupus erythematosus (SLE), is a state in which immune mechanism attacks the body's own cells and tissues as foreign bodies for some reason. Many autoimmune diseases are designated as intractable disease by Japan's Ministry of Health, Labour and Welfare.
Conventionally, early diagnosis was not required for autoimmune diseases, but with the advent of effective drugs, the effectiveness of early diagnosis and appropriate therapy from the early stages of the disease have been widely reported. Therefore, the need for early diagnosis is greater and the need to find out accurately the abnormality of immune system seen in each disorders is now also required. Clinical testing is not only effective in providing diagnosis but also in predicting pathological prognosis and in determining treatment options.
MBL has an extensive lineup of in vitro diagnostics for autoimmune diseases, supporting clinicians from screening through to follow-up tests.
MBL Brands
HEPANA Series
HEPANA is in vitro diagnostics for antinuclear antibody testing based on indirect immunofluorescent antibody assay using HEp-2 cells, the most well-established but still the gold-standard testing method.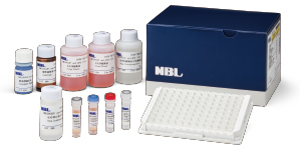 MESACUP™ Series
MESACUP™ is a brand of in vitro diagnostics using ELISA, enzyme-linked immunosorbent assay. Either used by hand or loaded onto autoanalyzers, the results are available in roughly three hours.
This is the Japanese first ever in vitro diagnostics for autoantibodies using recombinant antigens.

MEBLux™ Series
MEBLux™ is a brand of in vitro diagnostics using CLEIA, chemiluminescent enzyme immune assay. Loaded onto STACIA®, speedy (19 minutes approximately) measurement with wide-ranging and high sensitivity can be obtained, enabling laboratory testing prior to examination.
Immunology/Serology diagnostic: Tumor Marker Testing
Tumor markers are proteins and genes that are specifically produced by tumor cells and released into the circulation and can thus be measured in the blood and urine in certain amounts as signs of tumors. MBL supports accurate diagnosis of cancers with its diagnostic reagents of tumor markers and those of autoantibodies to tumor markers.
Molecular diagnostics
MBL aims to realize personalized medicine.
The personalized medicine, delivering the optimal health provision for individual patients, has been rising in importance recent years.
In the field of cancer therapy, the construction of a system to provide an optimal treatment for an individual is ongoing by investigating genes related to the effects and side effects of a therapeutic drug. In addition to conventional 'Oncogene test' that examines only a few oncogene mutations, it is now necessary to establish an 'Oncogene panel test' that analyzes a large number of gene mutations at the same time. Genetic tests for the genes such as those involved in drug metabolism, is also required to help select more appropriate drugs to avoid adverse effects. In the field of infectious disease, genetic test is also required to identify drug-resistant bacteria.
MBL is responding to such a clinical needs as well as developing and delivering to the healthcare frontline effective diagnostics that works in a simple and low-cost system.
MBL Brands

MEBGEN™ Series
MEBGEN™ is a brand of in vitro diagnostics kit using a technology called PCR-rSSO (reverse sequence specific oligonucleotide) method. It only takes about 4.5 hours to obtain results from start to finish, from PCR amplification of nucleic acid sample to measurement and analysis using specialized equipment. One tube is sufficient for the analysis of roughly 100 types of gene mutation/polymorphism.
*Research reagents using PCR-rSSO is marketed as the GENOSEARCH™ Series
MEBRIGHT™ Series
MEBRIGHT™ is a brand of in vitro diagnostics kit using the Real-time PCR method. PCR product is monitored in real time for detection and quantitative assay of target DNA/RNA. Simple handling and speedy determination can be achieved with closed system measurement. With no need for post-amplification procedures, the series features the low risk of false positives caused by PCR product.
*Research reagents using Real-time PCR is marketed as the FLUOROSEARCH™ Series
Core Products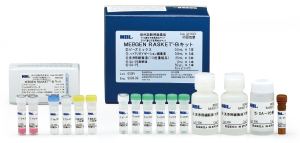 MEBGEN RASKET™-B Kit
MEBGEN RASKET™-B Kit is an in vitro diagnostic kit for the detection of RAS gene mutation and BRAF gene mutation.
Before anti-EGFR antibody drug treatment in metastatic colorectal cancer, RAS and BRAF gene mutation is checked in order to predict the treatment efficacy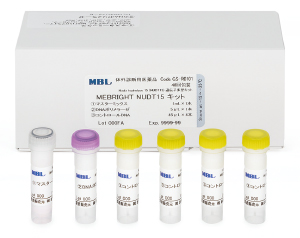 MEBRIGHT™ NUDT15 Kit
MEBRIGHT™ NUDT15 Kit is an in vitro diagnostic kit for genotyping the NUDT15 gene, effective in predicting serious adverse effect from thiopurine drug.
When receiving thiopurine drugs, patients with diseases such as inflammatory bowel disease, acute lymphatic leukemia and rheumatic disease, are tested for the genotype of NUDT15 gene by using the kit to avoid the risk of serious adverse effects.
OEM / Material supply
MBL has developed, manufactured, and provided a wide range of products such as chemiluminescence and immune fluorescence methods for autoimmune disease testing, latex reagents, research reagents, molecular tests, and companion diagnostics. MBL can also provide an appropriate solution to companies considering development and manufacturing of reagents, utilizing our know-how and technology. By the contract manufacturing services, we are flexible to provide acquisition of raw materials such as antibodies and antigens, provision of intermediates, kit development, and more.